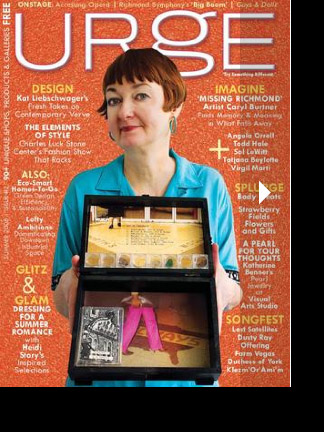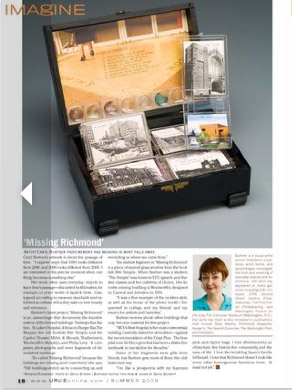 From URGE magazine, Summer 2008. See more about the Missing Richmond project HERE.
Can you briefly describe Missing Richmond and comment on how and why you titled it as you did?
Missing Richmond is a Cornellian box that documents the before/after/&in-between of six Richmond buildings: Trailways Bus Station, St. Lukes Hospital, Johnson's Burger Bar, "The Mosque," the Scottish Rite Temple (at Park & Harrison) and the Capitol Theater. It includes fragments from the downtown Miller & Rhoads, Thalhimers, Woolworths, Murphy's, Philip Levy, and the Scottish Rite Temple (Park & Harrison).
It's called Missing Richmond because the buildings are missing, and I miss them.
Was there a specific moment when the idea of collecting and presenting pieces of demolished buildings occurred to you?
My earliest piece is from circa 1978. It's a tile from the wall of the decrepit art deco Greyhound bus station in DC. The building just oozed history, and I wanted a piece of it. Many of tiles were already missing, and mine just came right off.
The earliest fragment in Missing Richmond is a piece of stained glass window from the Scottish Rite Temple at Park & Harrison. As a student, "The Temple" was home to VCU speech and theater classes, and my cafeteria of choice. After I graduated, I lived a block away, and walked by every day on my way to work at VCU Evening College. They tore the Temple down in 1979.
You obviously love Richmond. What do you love about it? Besides the missing buildings, how has Richmond changed since you moved here in the 70's?
I love the architecture, the history, the community, and the ease of life. I love the twinkling Sauer's Vanilla billboard. I love that Richmond doesn't look like every other homogenous American town [yet.]
I am thrilled that so many abandoned buildings are finally becoming galleries, restaurants, theaters, and homes.
Do you have a favorite missing building?
Woolworth's. It was a fine example of the modern style (Carneal & Johnston, 1954), as well as the home of the photobooth I frequented in college, and my friends' and my source for anklets and barrettes.
How do you get the fragments that you collect from buildings?
I'm like a prospector with my hammer, pick, and ziplock bags.
Have you had to sneak into hardhat areas or dangerous sites?
Many times.
Do people give you fragments?
I have received a few very meaningful gifts.
You present the fragments along with beautiful images of the buildings intact. Where do you find your images?
I use the Valentine History Museum archives, the Library of Virginia, the Virginia Historical Society, Robert Winthrop's 1982 book Architecture in Downtown Richmond, and my own shots. The Richmond Times Dispatch is a good source for wrecking ball pictures, official blurbs, and dates (which are crucial).
Are there any buildings that you feel are in danger of becoming material for this project? In other words, are there buildings slated for demolition that you feel should not be? Why do you feel that they worth preserving?
MCV's West Hospital is the most controversial building currently slated for demolition (against the recommendation of the Crupi Plan.) The hospital is an art deco gem that has been a distinctive landmark in our skyline for decades. Eddie Slipek calls it "a masterwork—a symphony in brick" [Style Weekly, Aug. 11. 2004, p 23]. Old buildings have more character and are composed of better materials. They enrich us by connecting us to, and reminding us where we came from.
I try to keep up with the demolition schedule through newspapers and my A.C.O.R.N. membership, so I am always amazed when I go downtown and another building's gone.
I don't know where I am anymore because my reference points have disappeared.
I was able to gather several pieces of the Virginia Museum's demolished 1976 wing and 1936 entrance. And though it took a while for me to see the need for the expansion, I am now very excited about it. The new Virginia Museum is going to be amazing.
What did I not ask that I should have?
Much of my artwork is about the passage of time. I explore ways that 1990 looks different from 2000, and 2000 looks different from 2008. I am interested in the precise moment when one thing becomes something else.
Some people believe that everything that has ever happened someplace continues to happen there on another plane, in a different dimension. And, though I'm not sure I would go that far, I do believe that residual energy can affect future events. The classic example is bad luck from building on an Indian burial ground!